Before
(Shoeless Jonathan)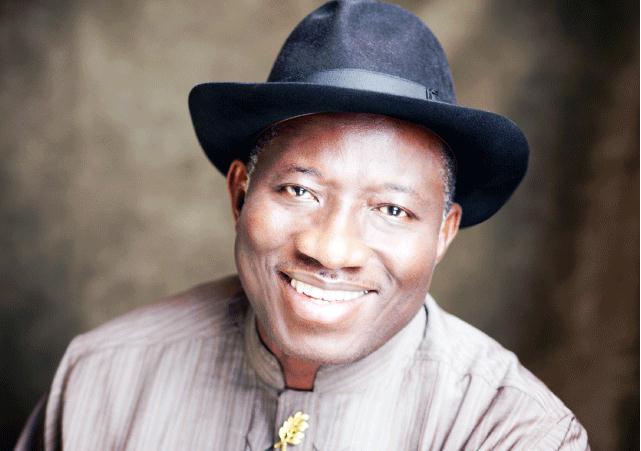 After
( Shoe-ed Jonathan)

Could it be luck or fate? But whatever it was, President Good luck Ebele Azikiwe Jonathan became the President of Nigeria on the 13th of January 2010, when a federal court gave him the power to carry out state affairs, while President Umaru Yar'Adua was being bed ridden in a hospital in Saudi Arabia. Fate continued its work and Yar'Adua died on 5 May 2010, and Jonathan officially became the President. He took the oath of office the next day.
He engaged in a re-election battle for Presidency in April 2011 and won in an election that some experts said may have been the fairest election in Nigerian history. One very catchy phrase that was in the air as he advocated for Nigerians vote in 2011 was that 'He went to school without shoes'. This depicted his poor upbringing and gave hope to many, who believed that anyone can rise above the limits of poverty to become greater than they dream. It also gave hope to many Nigerians who assumed his poor background, will arm him with enough compassion to better the lives of the poor when elected. Continue.......
We seldom can come out of our houses without shoes, but the President at a point in his life, went through that ordeal. The progression of events that brought a twist in fate, turning him into a man, who does not only have more shoes than he can wear in a life time, but can literally give a pair of shoe to every shoeless Nigerian, is a phenomenon to be looked into.
Any man inspite of whatever ordeal they've gone through or are going through, can rise to the top, but what he or she does at the top is key to his journey in life. Almost six years gone in this current Jonatharian administration and his journey may continue till 2019 as he engages in a comeback battle. He has promised not to fail Nigerians, and that's no longer news, the questions should be, has he failed Nigerians?
And my #Thought4Today,is: What will he do differently as he campaigns for Nigeria's vote? With his shoeless background, he needs to do more than settle most of his cronies and political supporters. It definitely has to be a whole lot more in bettering the lives of the average Nigerian citizen. If we can't change our President by 2015, then our President must bring the desired change we are asking for. "BY CHANGE", I don't necessarily mean a Change of the incumbent to its closest rival-Party, the APC. I leave that to the Power of Voters to decide. #WhatwillGEJdodifferently? #Hangout4Change.