Buy Nigerian: Nigeria is accused of being a highly consuming Nation and very low in productivity. While there is nothing wrong is consuming, everything is definitely wrong with zero or low productivity. It is also a truism that our consumption of imported goods is colossal while our patronage of made in Nigeria goods is epidemic. In the pursuance of bettering our economy and increasing our productivity as a Nation, the Olusegun Obasanjo presidential administration banned the importation of a myriad of foreign goods. In his statement, while appealing to Nigerians and friends of Nigeria to patronize locally, made goods, President Obasanjo noted that "charity, they say, begins at home. If you do not buy your own goods, how do you convince others that they are of high quality?
As someone who patronizes made in Nigeria goods with pride, I can publicly attest to the fact that they are just as good, if not better than imported variants." The aftermath of the ban only increased smuggling in of foreign goods and had no positive impact on improving Made in Nigeria goods. This was largely due to in-sufficient policies or plans for industrial growth in Nigeria. Nevertheless, there have been notable developments in the country's Art, Music and Furnishing industry. We have witnessed a boom in made in Nigeria Fashion, Music, Movie, Furnishing etc. However, we are still toddling in Tech, Textiles, Agricultural and Petroleum product production. In 2014 there was a release of a Made in Nigeria car under Jonathan's administration but its success in regards to usability and patronage is yet uncertain. Continue......
Applause to the Igbos, who have shown their love for Ëko (Money) by being one of the Nigerian tribes who have engaged largely in merchandise. They are not only good importers, they are also known for the production of their wide range of products called "Igbo Made" or Äba Made, they are the closest we have to China in Nigeria. Though their product is mostly categorized as fake and non-durable, they have helped in making some products affordable for a good number of Nigerians who cannot afford certain foreign products as a result of it's cost. If Nigeria has any credit for producing anything, then it is no other product than the said Ïbo Made. With a little support from government and encouraged patronage by Nigerians, I believe Nigeria, not China will be the market to beat.
Don't want to sound analytical, my objective is simple, to inspire us to be a productive Nation by promoting and buying made in Nigeria goods with the aim of growing our economy. A peep into Konga, Dealday, Jumia, Payporte, Kaymo and you will be amazed there are seldom too few made in Nigeria products even on our online market. We must stop to depend on foreign aids and aid ourselves as Africans. Patronizing "Made in Nigeria" product is still a far-fetched cry when compared to the number of foreign goods we consume. A Nigerian pastor in an attempt to spur his congregation to great heights in business said, "You are not in business until you are manufacturing." In the same light, we cannot grow economically as a Nation except we become highly productive. We can stir up increased productivity by patronizing already existing made in Nigeria goods, especially those that are of good quality. We have heard of Japan, Italy, Dubai and China, I believe Nigeria should be the next Nation to blaze a trail. Let's promote and patronize that which is ours, with the aim of being the next best world economy. #BuyNigerian. See the amazing photos below:
Created by isDehadza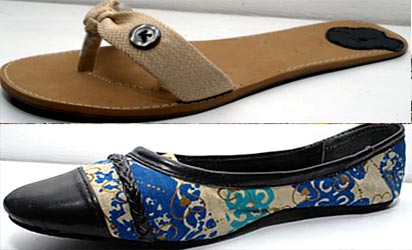 Made by T.T DALK #Comfy Shoes
Rebel Architecture by Adeyemi
Ekpang Nkwukwo is one of the Nigerian cocoyam recipes made with grated cocoyam, water yam, cocoyam leaves and periwinkle. It is a Nigerian food.
Now salivate your way to a great Nigeria! Thanks for viewing, please leave a comment.