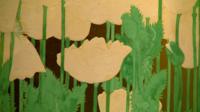 An exhibition at the Freer and Sackler Galleries of Asian Art in Washington traces the roots of modern Japan to a 17th century artist known as Tawaraya Sotatsu.
Sotatsu took classical art and gave it new meaning.
Blogged this story because it inspired me to paint a good and positive picture of Nigeria in my mind. We can bring the picture of our dream future alive. What's your dream for yourself and what's your dream for Nigeria? #PictureIt #BringItAlive.
More detail on this soon.......