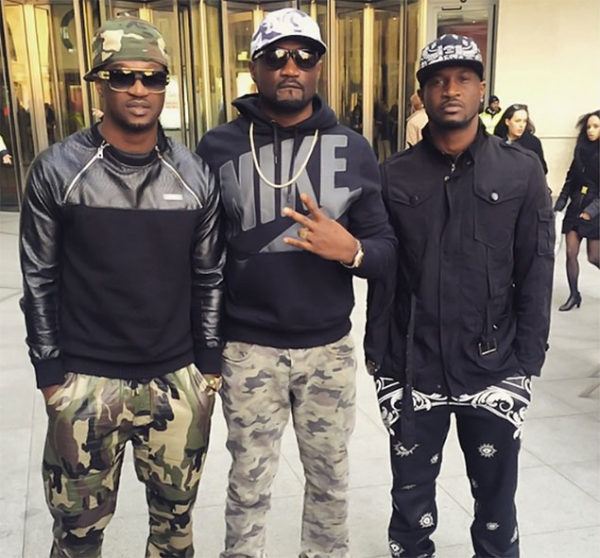 In an exclusive interview on Thursday, March 17, Peter told Publisher Ayeni Adekunle and Chief Correspondent Dayo Showemimo the reasons behind his social media rants, the issues he had with his brothers and why he is going solo. Read it HERE
Following that, former manager of the award-winning group Jude took to Twitter yesterday, Sunday, March 20, 2016 issuing what seemed like a warning to his brother. He posted:
"3sides to every story. Ur side, my side and the TRUTH. The truth is DIRTY.............#caution."
Following the publication of the interview, Paul offered a public apology to his brother via Instagram but later removed it.
He wrote, "All you all want is psquare,…all I want is family, love and care!!! Social media is the new root of all evil!! There's family before Psquare and there will always be family after PSquare ….Jude was only a scape goat and a victim .The person who has been keeping us together for all these years,..the truth is peter and Paul have issues!.For the first time I decided to do something outside Psquare ,and that is the case study here.I have always supported my brother 100% from His personal endorsements to dance with Peter which some re still on my I.g… Now I have just 3 questions….Why is it that these things are happening immediately I realized muno's singles under rudeboy Recordz. no.2 .. How come after jude stopped managing psquare for over a month now, the problem still exist. No.3 why is he in a hurry to go solo and doing solo?it's very sad, and very heart broken I wish these things never came out to the public at first… Now our fans are divided pls nobody shld support any teamPaul sh*t, I don't need that.. Pls resist from it cos thats evil…and for those of you promoters ,supporting him to be performing psquare's songs alone on stage, you are only killing us and destroying us the more .Dear brother am begging you ,even if you don't want Jude anymore and you don't want psquare, u re forever going to be my brother … But I wish the 3 of us could still do these together, bcos its a thing of joy….people love us so much not only because of our good music but seeing brothers doing it together and keeping it together, setting a good example to other families and to our kids.Pls swallow ur pride, forgive and forget, we can still turn these things around…. If I have said anything or done anything that hurts you. Am very sorry…. And to all our true fans pls pray for us. God bless you all."
It seems the group may have found a way to put their issues aside as Peter revealed on Instagram that Psquare will be preforming as a group for the first time this year on March 26 at the Pal Mundo Festival at Ahoy Rotterdam in the Netherlands.
In the meantime, Peter will still be preforming solo as Mr P in Dubai on April 8.