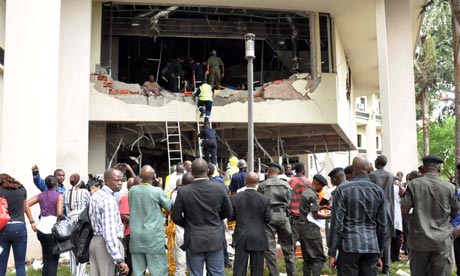 The Federal Government has reassured that it will meet the deadline of October 2016 for fixing the United Nations building that was bombed by insurgents in 2013.
The assurance was given by the minister of Budget and National Planning, Senator Udoma Udo Udoma, while receiving a delegation of the United Nations resident coordinator and United Nations DevelopmentProgramme (UNDP) resident representative in Nigeria, Ms Fatma Samoura, who paid him a courtesy visit in his office, on Tuesday.
Responding to their plight that 1,900 UN staff are presently suffering office accommodation inconveniences, Udoma said, "Our government is sorry about the present UN Office accommodation inconvenience. I shall effectively liaise with the Federal Capital Territory Administration and Ministry of Foreign Affairs to ensure that the October 2016 rebuilding deadline of the Nigeria's UN building is met, all that is required for the staff to move into the building will be addressed," in a statement by the ministry's director, Information, Charles Dafe.
He added that the present government is very security conscious, terrorism has been curtailed and Nigeria is a safer place today.
Udoma further commended the UNDP over their efforts and assistance towards the rehabilitation of the North Eastern Region of Nigeria that is also ravaged by insurgent attacks.
"We note with satisfaction, your efforts to help Nigeria rebuild the north eastern states. It is our biggest challenge today, we want to restore normalcy in that region, fix all the inhuman destruction done by Boko Haram and get the affected population back to their vital agrarian livelihood."
Leadership