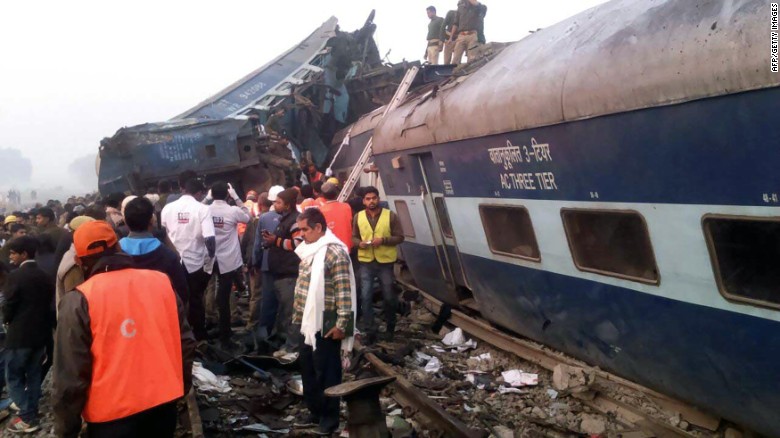 One survivor said he was sleeping around 3 a.m. Sunday as the train traveled through northern India."All of a sudden there was a massive jerk," Ravindra Pathak said in the aftermath of the deadly derailment. "Our heads collided with the roof of the carriage."
At least 120 people died when the Patna-Indore passenger train derailed, according to Rajesh Modak, deputy inspector general of police in Kanpur. Rescue teams are working on the last overturned car, while the other cars have been cleared of people, Modak said.
The train, which links the central Indian city of Indore to the city of Patna to its north east, was halfway through its journey when it went off the track near Kanpur. Kanpur, in Uttar Pradesh state, is nearly 300 miles southeast of New Delhi, the capital.
More than 150 injured passengers have been taken to hospitals in the area, officials said. Among them, more than 40 people have serious injuries, Rahul Srivastav, press officer for the Uttar Pradesh police, told CNN.
Survivor: Accident "shook him for life"
One survivor told CNN affiliate News 18 the train started shaking with "screeching sounds" early Sunday.
"I felt as though metal was clashing with metal, it was like a collision. My upper berth was almost tilted by the time the train halted."
Shresth who used one name as do many people in India said he was one of the first to climb out of the wreckage. He was traveling with a friend to the city of Lucknow to attend an event, he said. When they tried to leave through one of the doors, they found the corridor littered with bodies, he said. "I did not want to step on the bodies so we took the other door, but by the time we deboarded, all I could see were either dead people or children crying for their parents," Shresth said.
The pair used GPS navigation to make their way to a nearby village hospital. Later they saw ambulances arrive. Shresth said the accident "shook him for life."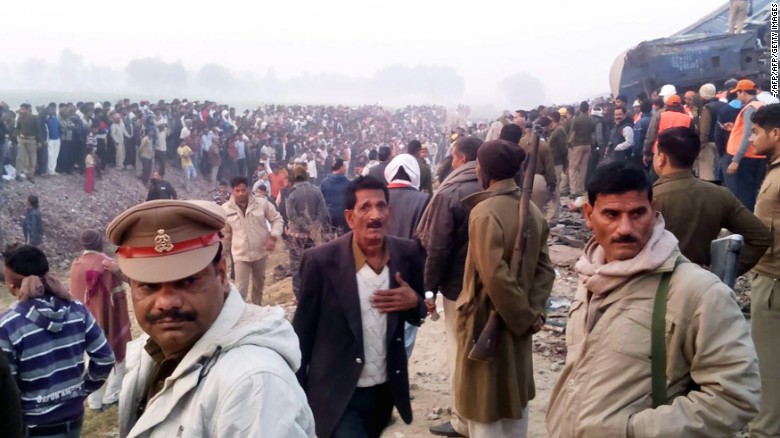 Onlookers and survivors gather next to wreckage of the train that derailed Sunday near Kanpur, India.