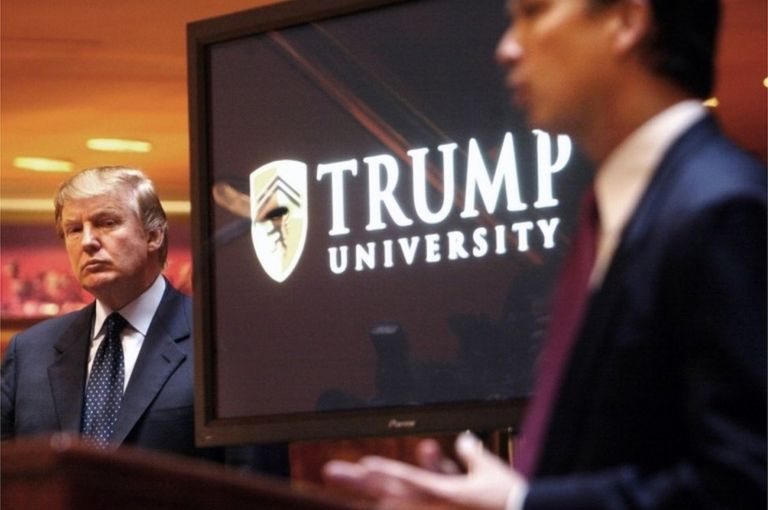 Donald Trump has settled three Trump University lawsuits for $25m (£20m), the New York Attorney General has said.
The US president-elect was being sued by former students who paid $35,000 (£28,000) for real estate "secrets" from his "hand-picked" instructors.
Mr Trump had repeatedly said he would not settle the class-action lawsuits.
Attorney General Eric Schneiderman said the settlement was a "stunning reversal" by Mr Trump and a "major victory" for victims.
The businessman faced three fraud lawsuits - which alleged the school misled students and failed to deliver on its promises - in California and New York.
A trial in one of the cases had been due to begin in San Diego on 28 November, although Mr Trump's lawyers had attempted to delay the case
During the election campaign, Mr Trump was criticised for saying that the California judge hearing the case could not be impartial because he is of Mexican heritage.
Attorney General Eric Schneiderman said in a statement: "Today's $25 million settlement agreement is a stunning reversal by Donald Trump and a major victory for the over 6,000 victims of his fraudulent university.
"The victims of Trump University have waited years for today's result and I am pleased that their patience - and persistence - will be rewarded by this $25 million settlement."
Mr Schneiderman, who Mr Trump has attacked as a "lightweight", had sought a $40m payout from Mr Trump over the university, which closed in 2010.
He called Trump University a "fraud from beginning to end" in July, adding that the organisation used "false promises to prey on desperate people".