1st of October, 1960 Nigeria bolted out of colonization jail as a free Nation. 57 years later, the event is one never to be forgotten as it marked the end of slavery and a start of a new and free era for the country.
Monday, 1st of October 2017, proud Nigerians took to their social media platforms to share their passion and thought for the country via photos, as she marked her 57th birthday. Here is a collection of 18 photos that are outstanding.......
The picture above is that of Belvin, a serving youth corper in Delta State. The beautiful Nigerian drew a Nigeria Coat of Arm on her entire face to celebrate Nigeria at 57. She is indeed a proud Nigerian with great hope she will see the Nigeria of her dreams. More patriotic photos after the cut..........
Nigerian actress Doris Simeon gives a huge smile, it speaks of great hope for our country Nigeria. The actress released the pictures to mark Nigeria's 57th Independence celebration but she is been heavily criticized for her see through attire which revealed her designer bra as seen in photos below. Hmmmm

Femi Alabede's "She Is Nigeria" independence photo and poem shows a woman who is struggling through all the trials and tribulations for a better tomorrow. Read the poem and more photos below:
As far-reaching as the stars
United in culture and traditions
Of seemingly blurred lanes
She serves her beating heart
To share the message of strength;



The bullets in her heart,

The knives carved in her back

Still she survives, not by choice




Nigeria, she is the love of love

Whispering beats like Gypsy tunes

Intoxicating the battered hearts of men

Drawing them to tangled moves

as she creates a pure magic of undying unity
Photos from Beautywise celebrating Nigeria at 57. The Makeup ehn!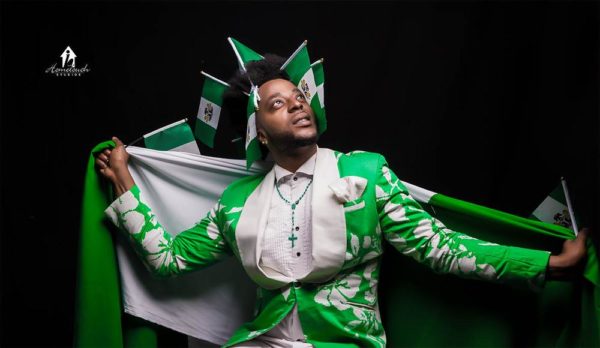 Yeah this picture is from 2016 but I find it very relevant for 2017. Benson Okonkwo Nigeria actor showers himself with Nigerian flag. In other photos he was practically nude and mildly covered by a Nigerian flag. What can't actors do? He loves Nigeria sha and keeping his hope for a better today alive.
This is Yemi Alade! One of Nigeria's top female singer. She slays in her instagram independence post all dressed in Nigerian attire and color as she celebrates Nigeria at 57.
Your very own Nationalistic Blogger Mercy Ebute gives that hot Nigerian look with lots of hope for a great country.
Yes President Buhari makes my top 18 patriotic photos for 2017 independence. He paid a surprise visit to Yola to mark the day with the country's Army who only expected their Chief of Army.
Our greatness lies in us. We must see beyond our present predicaments and build a great a nation.