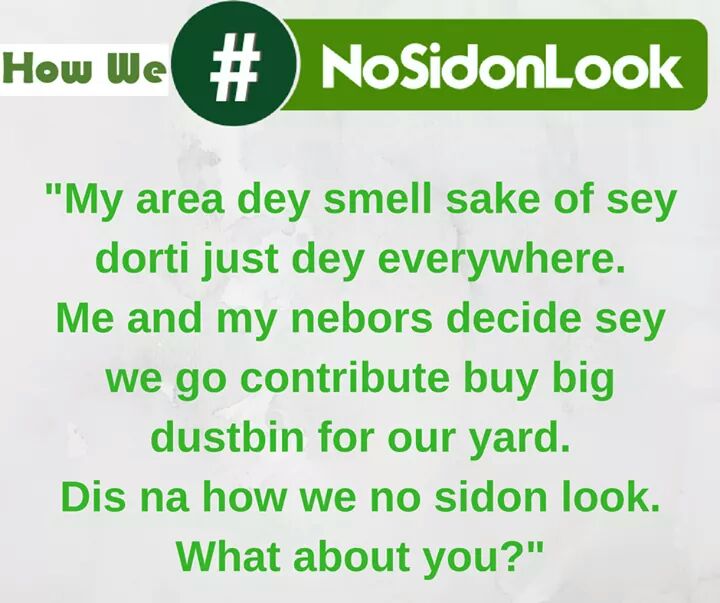 BBC Media Action is set to launch the 3rd phase of #NoSidonLook campaign. This is coming at the bedrock of two successful editions which inspired about 5 million Nigerians, seemingly ordinary people to take action that will bring about extraordinary change and development to their community.
About BBC Media Action.
BBC Media Action is an independent and international development charity arm set up by British Broadcasting Corporation to improve quality of lives through innovative use of the media. Since inception, BBC Media Action has worked in almost 40 countries.
In 2015 BBC Media Action reached over 50 million Nigerians with their various Programmes. Popular and impactful radio shows across Nigeria like Story Story pidgin radio drama, Talk Your Own-Make Naija Better pidgin radio magazine show, Gatanan Gatanan Ku Hausa radio drama, Mutatauna Hausa radio discussion programme and Ya Take Ne Arewa Hausa radio magazine programme on maternal and newborn health are all are spearheaded by BBC Media Action.
About #NoSidonLook
#NoSidonLook is part of BBC Media Action – Nigeria's governance project, funded by DFID, which targets young people, women and people living with disabilities, using multimedia platforms. One of the objectives of this project is to strengthen citizens' engagement with electoral processes and fundamentals of democratic governance in Nigeria.
#NoSidonLook works across multiple social media platforms, especially Twitter, to provide space for discussion about active citizenship among Nigerians, including active steps towards addressing issues in people's immediate communities.
3 different phases, target groups and hashtag:
Phase 1 – Introduction to #NoSidonLook
Phase 2 – How I #NoSidonLook
Phase 3 – How We #NoSidonLook
Phase 1, which launched on the 7th of September 2016, included audio spots, online graphics, animations and video materials, as well as user-generated videos and pictures sent to BBC Media Action or uploaded by audiences and contributors across Nigeria. They identified issues and things that could be better in their localities and suggested possible solutions to them. Audio spots simultaneously broadcast on radio stations alongside the online activities. The hashtag #NoSidonLook trended all day on Twitter with about 1,589 contributors and over 5 million impressions.
Phase 2, which launched on the 11th of November 2016 with a repeat on the 29th of March 2017, addressed different steps and actions that people across Nigeria are taking to bring about the results they desire for their community or the country in general. Some people sent in their videos and stories on what they had done or were doing as #NoSidonLook Nigerians. Short video content was produced featuring Nigerians engaging or working together with government to make things work. Some radio stations broadcast live shows and Facebook Live events in contribution to the activities. Videos, graphics and audio content from Phase 1 were also distributed online while some TV spots aired on TV stations across Nigeria. Phase 2 also trended as number 1 in Nigeria.
Phase 3 will add an extra component – "How We #NoSidonLook" – that looks at how groups are working to articulate their needs and follow a democratic strategy towards achieving results in their communities. Groups will share stories and ideas which worked for them as a group or community in solving issues in their communities. Activities will include:
TV Spots showing communities/groups that have worked together to address issues in their communities

Radio Spots showing various options for people to work together actively

Celebrity hypes for #NoSidonLook

Live radio shows across Nigeria on launch day

Branded T-shirts

Social Media (Twitter/Facebook/Instagram)
LIVE RADIO SHOWS
Participating radio stations will run an interactive show with a conversation around #NoSidonLook. This could be on the morning, afternoon or night belts as suitable.
Listeners are encouraged to share their stories and experiences as either individuals or groups to discuss "How we #NoSidonLook". Stories could be that of success or struggles.
Radio spots on #NoSidonLook to be played during the show
The show could be broadcast on social media through Facebook Live and Tweets in real time
#NoSidonLook branded T-shirts to be sent to radio stations for the OAPs and 2 lucky listeners. The OAPs should take pictures or make short videos with the shirts and post online. A shirt each to be given to 2 randomly selected listeners that participated on the radio shows. They too should take pictures/videos of their stories and share online using the hashtag.
ONLINE ACTIVITIES
On the day of launch, materials will be published online. Interested contributors can share their stories and join the conversation using the hashtag. Some interested Civil Society Organizations and individuals will be participating in virtual interviews sessions on Twitter. Twitter influencers and bloggers will join the conversation from across the country. Note that every content should be shared using the hashtag #NoSidonLook.
#NOSIDONLOOK
Talking is good but not enough without active involvement.
My active participation in governance and social/civic matters can improve the way government works to the benefit of my community.
If other people/communities are doing something, mine could as well.
Engaging in governance is a process, I'll learn and follow the steps that meet my community's needs.
I don't need a special qualification to start engaging or mobilizing for the good of my community,
Participation in governance and working with government and other decision-makers can lead to improvements.
Take action now, #NoSidonLook
RELEVANT SOCIAL MEDIA HANDLES
Facebook: BBCMediaActionNaija
YouTube: BBCMediaActionNaija