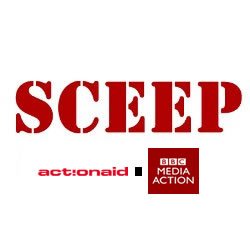 Action Aid in collaboration with BBC Media Action and supported by UK Department for International Development (DFID) held a two day workshop with partners and stake holders on Strengthening Citizens' Engagement in the Electoral Process(SCEEP). Objectives of the workshop are as follows:
1.Share knowledge on effective multi-platform initiatives
2.Identify strategies for inclusive programming for women, youth and People with disabilities in governance
3.Identify entry points for collaboration between traditional media, online engagements and community outreach.
4.Provide linkages for sustainable networking of state-level partners
The two day Workshop marked the end of the four year implementation period of Strengthening Citizens' Engagement in the Electoral Process (SCEEP) project which ran from 2014 to 2018.
Partners at the event recounted stories from their various communities on the successful implementation of town hall meetings, radio programmes and use of new/traditional media to engage citizens especially of the catchment area; women, youth and people with disability to get involved in electoral process. There were testimonials of how the programme had impacted positively on formulation and implementation of government policies in some of the States where the project was implemented, that bettered the lives of the people of that community.
Also at the event, convener of Partners For Electoral Reforms/ SAY NO CAMPAIGN NIGERIA Ezenwa Nwagwu gave a thought provoking presentation on "The 2019 Election; Issues, Trends And Threats. Below are exerpt from his presentation which outlined five threats of the 2019 elections.....
The pauperisation of citizens by hurtful government policies forced on us by IMF and the world bank, and the recent attempts at shutting down the corruption economy we have been running has exacerbated the poverty situation. The inability of many to adjust to absence of free money for unbridled consumption and ostentation is a sure threat for 2019 election.
Unemployment statistics from NBS and job losses, cannot be discountenanced as threat for successful election. The situation is worsened by tokenistic approach of government in addressing the challenge. We need to improve power, for industrialisation, we need to reduce bank lending rates, otherwise, we have a ready army that can be used to foment trouble pre and post-election in 2019.
Since our return to democracy in 1999, our inability to tame extremism, violence, punish crime and bring it to a closure, cases of acts of violence continue to threaten and thug at our existence as a country. We are notorious for sleeping over unresolved murder cases and violent crimes; where are we on the murder of Chief Bola Ige, Dikibo, Harry Marshal and others?
We are unable to hold anyone accountable for Odi, Zaki ibiam, 100 policemen and DSS officials killed and burnt to ashes by the omabtse group in Nassarawa, the atrocious acts of OPC, Baakasi boys, we have been pretending not be aware of the killing of over 200 citizens in Agatu, in 2016, we have conveniently forgotten the 9 Corp members killed in Bauchi in 2011; Sadly, we just move on.
My point is this, 2019 may be defined by increased political violence, especially when there is the possibility of alternation of power, violence may be deployed to stall the process and force situation of inconclusiveness.
We must raise the ante and support INEC to foreclose the possibility of this happening.
We have seen the resort to vote buying in some recent elections conducted by INEC; Edo, Ondo and Anambra states are complicit. It appears that politicians are hitting brick wall at compromising electoral officials, hence, the resort to now ever more willing voters.
We must educate and unpack the danger of allowing votes to go to the highest bidder and what it means for the well-being of our citizens.
Fake news is real and it portends real threat for 2019 election, the work of the progressive section of the media in birthing and sustaining democracy is being subverted by unscrupulous politicians who have unduly taken advantage of liberalised media space to become media owners, owe salaries and allowances of their workers, thereby putting them in semi - beggarly position which threatens their ability to uphold the intrinsic values and time- honoured tenets of integrity, honesty and professionalism.
At the end of the workshop, participants unanimously agreed to greater collaboration between Civil Society Organizations and New/Traditional media as a necessity
for more effective campaigns.
Photo: Participants at the workshop